Family Bible Hour
Family Bible Hour is divided into three age groups. Children from birth to age four will be supervised in the nursery. Children five to twelve will be taught a Bible lesson. Teenagers and adults will study the Bible in various ways.
A female staff member will care for children from birth to age four in a supervised setting where they can relax, learn, and play in a fun, safe environment.
Children ages five through twelve can expect an interactive experience learning the Bible with a Sunday school teacher. As the lesson is taught, the teacher will ask the children questions to encourage them to better comprehend the Bible passages studied that day. Children will also make crafts on some days that they can take home to remember the lesson that day.
Our teenager and adult class teachers expound the Scriptures in a setting that encourages open dialog. Showing how God used Biblical person's and nation's experiences helps class members understand God and themselves better, and encourages each class member to live out his or her faith through any circumstance. Our teachers build their class's faith by explaining New and Old Testament books verse by verse and by performing topical studies. They ask questions to reinforce their class's understanding of Biblical passages examined that morning.
Morning and Evening Worship Service
At both the Sunday morning and evening services, children from birth to age four will continue to be supervised, so you can focus on worshipping the Lord.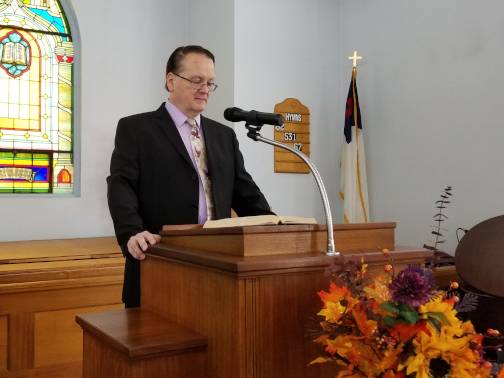 Both Sunday morning and evening services feature congregational singing, pastoral prayer, special music, and a message that the Lord has impressed upon Pastor Archut to preach. Pastor Archut will either preach through a passage of Scripture verse by verse or preach on a topic that highlights specific verses during the Sunday morning and evening services. Our Pastor often loves to delve deeply into the inclusion of, exclusion of, and meaning of words in passages to show how those specific words or lack of words influence the meaning of a Bible passage. He also enjoys explaining the context of a Bible passage from when the Scriptures were written. He uses modern day examples to further clarify Bible passages. His detailed analysis of the Scriptures allows the congregation to better understand its meaning. His goal is to challenge the congregation to put into practice what they have learned so that they can grow to be more Christlike.
Recorded sermons from Sunday mornings and evenings are available at the back of the church and upon request.
Wednesday Evening Bible Study and Prayer Meeting
Pastor Archut leads a Bible study on Wednesday Nights on Wonderful Grace Radio where he examines a book of the Bible verse by verse in great detail. He gives his audience opportunities to ask questions and offer comments through email during the week and through personal conversation on Sundays.
After the Bible study finishes, Pastor Archut leads prayer time with requests and praises so that our church and global audience can specifically pray and give praise to our Heavenly Father in the name of His Son, our Lord Jesus Christ. You can email requests and praises via our contact page or tell them to him or church staff in-person on Sundays.